Those of you with handbooks for your Automatic 'A' Class should will have this information in part in your Owners handbook Under Automatic Transmission (In my handbook page page 207) . However I am very much aware that a large number of owners World wide having purchased used vehicles do not have owners handbooks and therefore will not be aware of the procedures to be employed when a Fault occurs on the automatic transmission, 'F' Displayed, hopefully this information will help you and advise you what is going on and what to do to get home or a place of safety when the 'F' displays and normal driving is not possible.


Automatic Transmission Driving your Car.
This information is taken direct from he owners handbook (MB order No.6515 0254 02 Part number 168 584 01 87.
This information kindly is provided by Chris it will give you some idea of what is involved in changing the transmission fluid when undertaken at your request by a garage along with the parts you should expect to see on the invoice.
If you have been considering doing this job yourself then it is recommended that only experienced DIY enthusiasts tackle this procedure and you do need some special tools if you are going to the job to a high standard which will ensure maximum return for your trouble.
When Mercedes did this for me three years ago, it was 320€ and as far as I could tell, the mechanic spent most of his time chatting to his buddy while the transmission warmed up...
I was GOB smacked when I got the bill - I thought I was going to be there for an hour at the most... three hours later I was finally back in the car!!!
I should have asked for an estimate first.
Anyway, the gearbox has been 100% reliable and I've just gone past 150000km so I guess peace of mind comes with a price tag.
I'll give the procedure a go this weekend.
Thanks again
Paul
So you can instantly see that getting Mercedes-Benz workshops to do this job is costly, I suspect mainly because of the time it takes, it would be asking too much for the mechanic to be getting on with other tasks while the gear box warmed/heated up the fluid for instance 3 x hours in the UK is going to cost at in the region of £240 and that's the minimum cost, remember that's before the appointed mechanic has even raised the bonnet!
Plus of course the dreaded VAT.
So if you were considering getting any work done on your car, always get a quote first and if you haven't used the garage before ask them to just jot that down for you and keep it handy.
And please bear in mind I have not undertaken this task as my car has a manual gearbox so I cannot add anything to what Chris has said.
Please remember not matter what the task it could be more costly than taking your car to the garage if you are not competent to undertake any procedure/repair, so always consider the situation before commencing any work on your car.
I'll now hand over to Chris.
Transmission Fluid change Procedure
***Message from one of my readers 'BIG JOHN', Reference the the dip stick mentioned in this procedure which is not installed/fitted on the automatic gearbox as standard, unless fitted by the previous owner)
Over the years posts on the forum have suggested that the automatic transmission dip stick is not available or that MB would not supply it.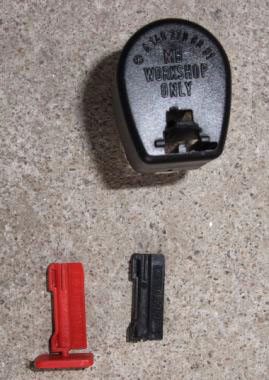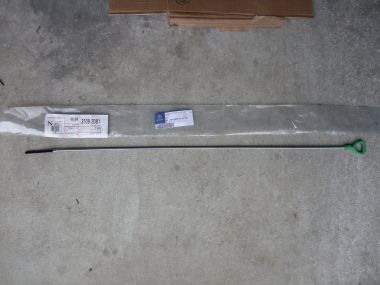 Several years ago I bought one from a MB parts department without any problem it just had to be ordered from Milton Keynes for next day delivery.
The details are:-
DIPSTICK
for measuring automatic gearbox fluid level. Part Number: W168 589 012 100 the current cost including VAT is £23.22 14.01.11
Two owners have now provided information as to the measurements on the dip stick, which may enable owners to make up the own measuring devise if you are not able to obtain a dip stick,
Marking on an original trans GB stick are as follows:- from the bottom tip of the stick to level 1 is 10mm then 5mm between each level up to 12 (1-12)
My car is a manual GB but if it were a Auto I'd be thinking of making up a dip stick using curtain spring , you can buy it by the meter, the sort of thing you use to hang net curtains up at your window .
I confident this could be marked with paint to indicate the various levels and the stiffness improved to ensure it produces an accurate measurement of the fluid when hot .
(The part number is correct as W168xx and not the normal A168xx)
The oil filler/dipstick pipe has a plastic sealing cover retained by plastic "tamper" pin which has to be broken to remove the cap the original pin is black (as is the cover) the replacement pin is red.
The details are:- PIN Part Number: A1409910055 the current cost including VAT is £1.20
What john has said is still true today, only in the last two weeks I have had one owner tell me that MB parts would not sell him the stick saying it was for Garage use only, if this happens to you simply shop elsewhere, I contacted my branch and they agreed to sell him one, although they did ask for the part number!
So the dipstick for checking transmission fluid level is available from Mercedes parts and my branch of MB Parts at Bognor Road, Chichester, in West Sussex Tel 01243. 776111 is prepared to supply it .
Clint had problems with his Dad's car hesitating when going from gear to gear, having checked every thing else on the car he finally got round to checking the transmission fluid, only to find that the specialist Garage who had changed the fluid had overfilled it by 700ml which raised the fluid 60-70 mm on the dip stick when hot, having drained off the excess all signs of the hesitation had gone and the car now runs well , so remember these levels do matter and will affect the running of the car. Thank you Clint for that information and you other comments.
Lofty Other parts also needed are:-
1.
Transmission fluid (See link below.)
2.
Filter
3.
.Sump gasket
4.
Sump plug
5.
Copper washer
6.
Tamperproof plug
7.
Pan magnet(may be reusable )Note on later models the sump pan has been increased in depth by 3mm, MB recommend that this be fitted, but it is extra cost! but is does come with a drain plug and seal.
8.
Transmission fluid
I would suggest the use of genuine Mercedes fluids, bearing in mind the cost of a replacement gearbox!
I would suggest getting the transmission fully hot and checking the fluid level before starting work. If you then drain the fluid into a marked container you will know how much fluid to use on initial refill of transmission.
Removal of the sump pan to change the transmission filter and install a pan magnet [magnets were not fitted to earlier cars] is also a good thing to do.
Note:- Both the drain plug and sump pan bolts can be quite tight so proceed with care, ensuring that Toro bits are fully located in the head of the bolt.
With reference to above: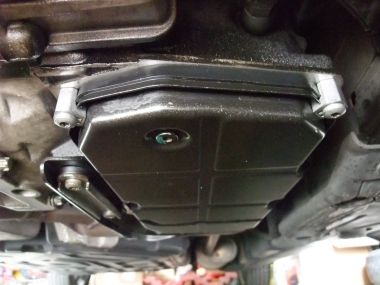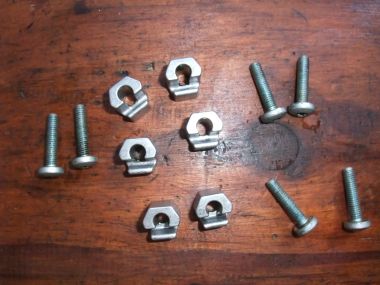 1.
Drain fluid/fluid from transmission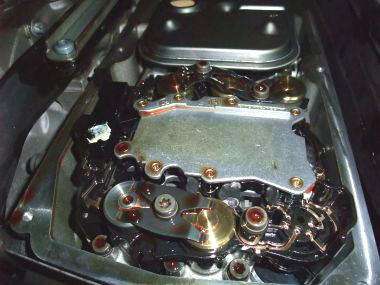 2.
Remove sump pan [note that there will still be a quantity of fluid within the sump pan which is best not relocated down your sleeve]
3.
Change transmission filter
A
[this simply pulls out of the transmission case]
4.
Clean out sump pan using a lint free cloth
5.
Install pan magnet
6.
Refit sump pan using new gasket
7.
Refit drain plug with new copper washer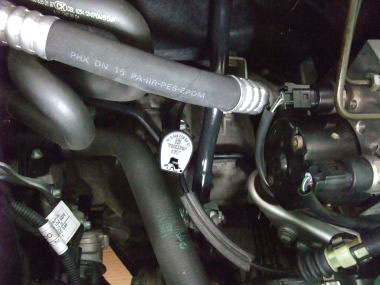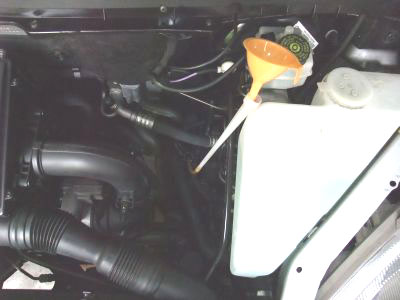 8.
Refill with the required amount of fluid ( Auto Trans MB Fluid £!0.20 a litre 14.1.11 ) before starting the engine
9.
Start engine and allow to idle in P. checking/correcting fluid level if necessary
10.
Warm up transmission and shift through all gears [with vehicle stationary] while warming up.
After warming up transmission, wait at least 2 minutes and check fluid level with engine running in P or N
11.
Check transmission fluid temperature
When transmission is cold, level must be between marks 2 and 4. The exact fluid level must be between 8 and 12 at 70-80 degrees c [transmission fluid temperature] If you want to get an accurate reading you will need an infra red temperature gun or similar device
Temperature gun next day delivery tel 07864991164
[as mentioned previously I would suggest aiming to get the fluid level exactly on the 12 mark] Model 168, use HHT to call up current transmission fluid temperature in one of the selector positions P R N or D [this is where I used a hand held infra-red thermometer pointed directly at the sump pan to determine fluid temperature, I would also suggest checking the temperature only in P or N as checking it in D or R could prove to be dangerous]
12.
(*** see information above) Insert dipstick as far as the stop, pull out, read off level. Insufficient/excessive fluid quantity causes malfunctions and transmission damage.
13.
Check fluid level again. Correct if necessary.
14.
Refit tamperproof cap
15.
Check for leaks
Torque settings;
Drain plug 22NM
fluid pan to transmission 8NM
Note to ensure that the required temperatures I purchased an infrared temperature sensor /gun from
Maplin's
although this cost just on £30.00 it was well worth while and assisted me greatly in doing the job well.
Special tools for working on various Mercedes-Benz Vehicles, as well as suppliers of automatic transmission fluid level dip sticks
Sorry if this seems rather lengthy but this job is possible if you know your way round you car and are mechanically minded and it is worth taking your time remember you are saving yourself £500 at my local Mercedes dealership prices but the job must be done well & right or you will face extra costs!!
If I can be of further help please do not hesitate to e-mail me.
Regards, Chris.
Other helpful information, links and Photos kindly received from Oliver :-
For " Changing full Automatic Transmission Fluid " you can find: For WDB168 A140 year 2003 with gearbox 722700 00 246734
for the ATF : I use Fuchs Titan ATF 4000 automatic transmission Fluid
(Good price at
www.opieoils.co.uk
=25 £ for 5 litres For 168.589.012.100 gauge = 13 € without taxes and transport(
www.mannes.fr
168.377.03.95 filter = 8€ 140.991.00.55 goupille =0,57€
Fully Automatic transmission information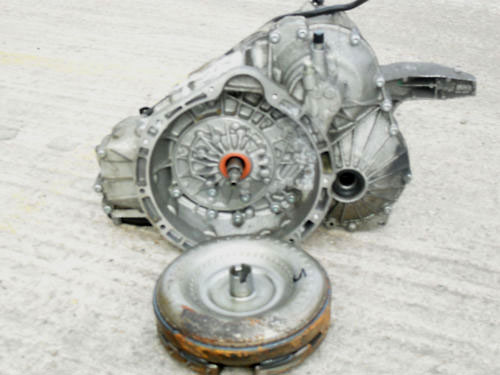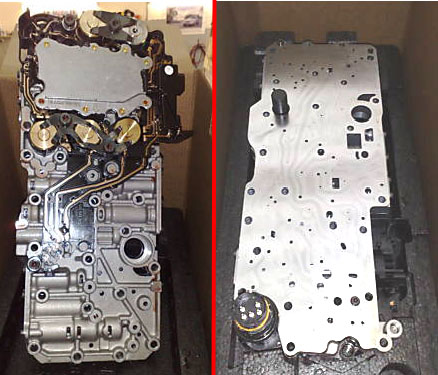 Removing the Valve chest from the Gearbox .
Dear Lofty.
This may be of interest to your readers:-
Okay so the transmission control unit is out now and on its way to ECU testing.com
After conflicting info I purchased a manual from emanualonline. The manual took an age to load, but is excellent with all MB info. £9.99.
Anyway the procedure is:-
1.
Get the car in the air
2.
remove the sump plug and drain the oil. Keep it all and measure it so that you know how much to put back in.
3.
Remove the ECU connector on the rear of the gearbox above the sump. The connector has a red safety clip, slide this towards the gearbox, then squeeze the top of the connector close to the cable exit and pull, it is a difficult one but comes with a little force.
4.
clean the area to avoid any dirt getting into the gearbox, it can be damaged by very little contaminant, use lint free cloth etc.]
5. Remove the sump pan and then the oil filter housing which just pulls out.
5.
Remove 16 of the 18 screws that secure the unit.
6.
support the unit and remove the last 2 screws and drop the unit into a clean container.
7.
Package carefully and send away.
notes
1
the connector on the top remains with the unit and drops with the unit when it is removed.
2.
package well in plastic and bubble wrap. don't attempt to clean, or remove any parts to have a look.
3.
There is no need to remove the wheel, or arch liner.
Robin Page Thanks Robin I'm sure this will help readers who wish to get their Valve chest refurbished.
There is little doubt that the automatic transmission is a very complex piece of machinery, these are photographs of just part of the automatic box known as the valve chest the 4 copper/brass caps along with one alloy cap. these according to owner Paul support the solenoids against there retaining spring in each case
If you look at the automatic gearbox valve chest, right hand photo, you will see a five pin connector, this connects the electronics of the gearbox/ECU to the selector module in the cab. when a new selector module is purchased it comes complete with cable but the engine has to be lowered to get it down the back of the engine and gearbox AS far as I'm concerned this whole set up is a mystery something I'd prefer not have on my car, at least with the manual gear box I know what I have and how it works.
There were two valve chests on E-bay this week,24.11.08 but again take care in what you purchase. It appears the NTC.ECU is coded to your car however repairing and replacing the existing unit will not affect its operation.
If buying from any source seek an assurance in writing that it is in working order and even then you may have to switch your NTC.ECU to the replacement chest, if compatible.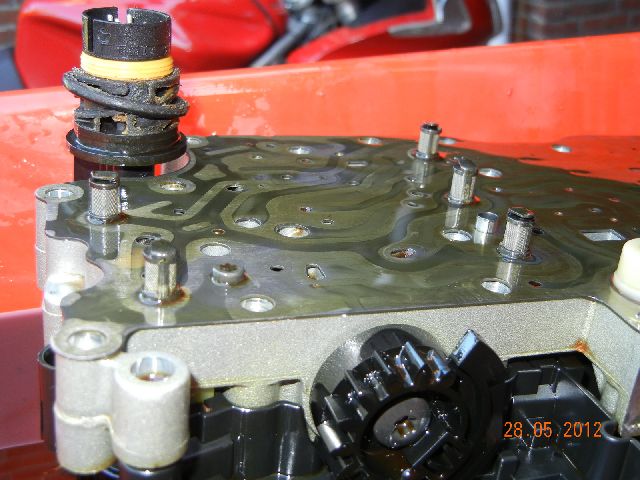 These photos were kindly provided by Henk.
They clearly show the electronics plug that goes to the FTC/ECU which MUST be disconnected before attempting to release or lower the Valve chest.
They also show the finer details of the valve chest when removed from the gearbox.
The filters can also be seen these will come away with the valve chest although are normally located in the upper section, retain these safely for replacement when refitting the chest.
Lofty only recommends ECU Testing.com for this repair, other companies that claim to be able to repair this unit have written them off in the process.
The Valve chest will cost you £1000.00 + to replace so use a company you know you can trust .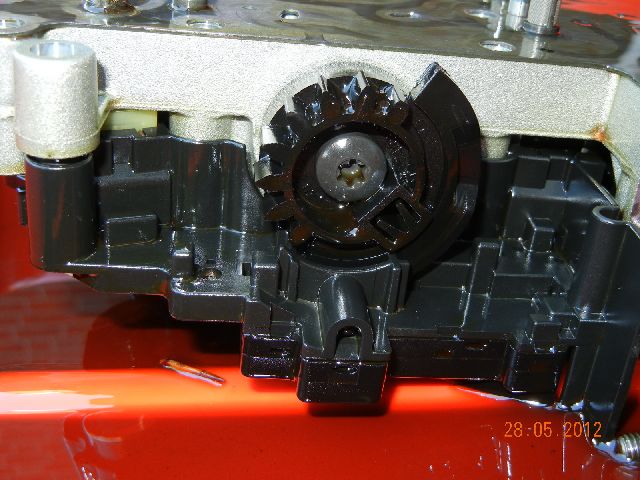 When removing the Valve Chest support it while removing the many securing screws.
Lower with caution as the unit is quite heavy and you need to ensure that all securing bolts have been removed.
Have plenty of lint free cloth or absorbent material to hand to soak up the residual fluid that will have remained in the channels of the Valve chest.
Wear protective glasses or visor to avoid getting splashes /droplets of fluid in the eyes
and be prepared for splashes of residual fluid when you do finally allow the valve chest to separate from the gearbox.
First Aid
Where the fluid comes into contact with the skin wash off as soon as possible using soap and water, DO NOT BE TEMPTED TO TAMPER WITH THIS UNIT, DAMAGED UNITS CANNOT BE PREPAIRED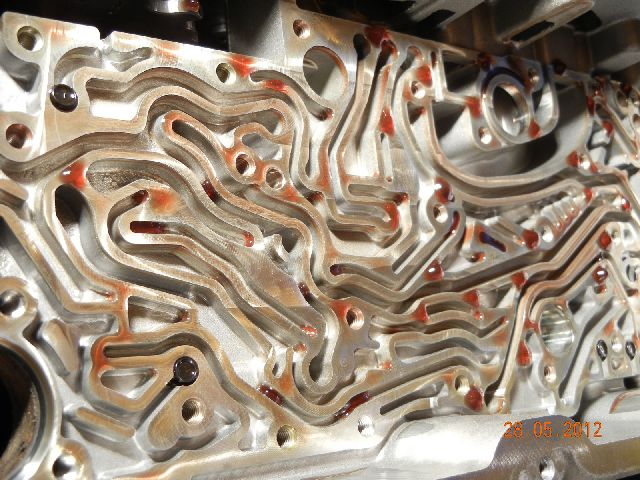 As can be see , there are numerous gullies machined into the body of the valve chest, the walls and upper machined surface must not become damaged while removed, like the head of the engine when fitting a new head Gasket the machined flat surfaces must remain unblemished,
When sending your Valve chest for repair , ensure it is suitably packed in Bubble rap and a polythene bag, then placed in a suitable box this will ensure your unit is delivered and returned safely.
Do not use shredded paper or similar products as these will contaminate the valve chest making it almost impossible to clean due to the residual sticky fluid on the valve chest
Taking digital camera shots of this unit when removed will ensure you have a reference for checking when re-installing.
Note Mercedes Recommend replacing the oil pan on some models when re-assembling the unit so check with MB when purchasing parts to see if this applies to your Vin number .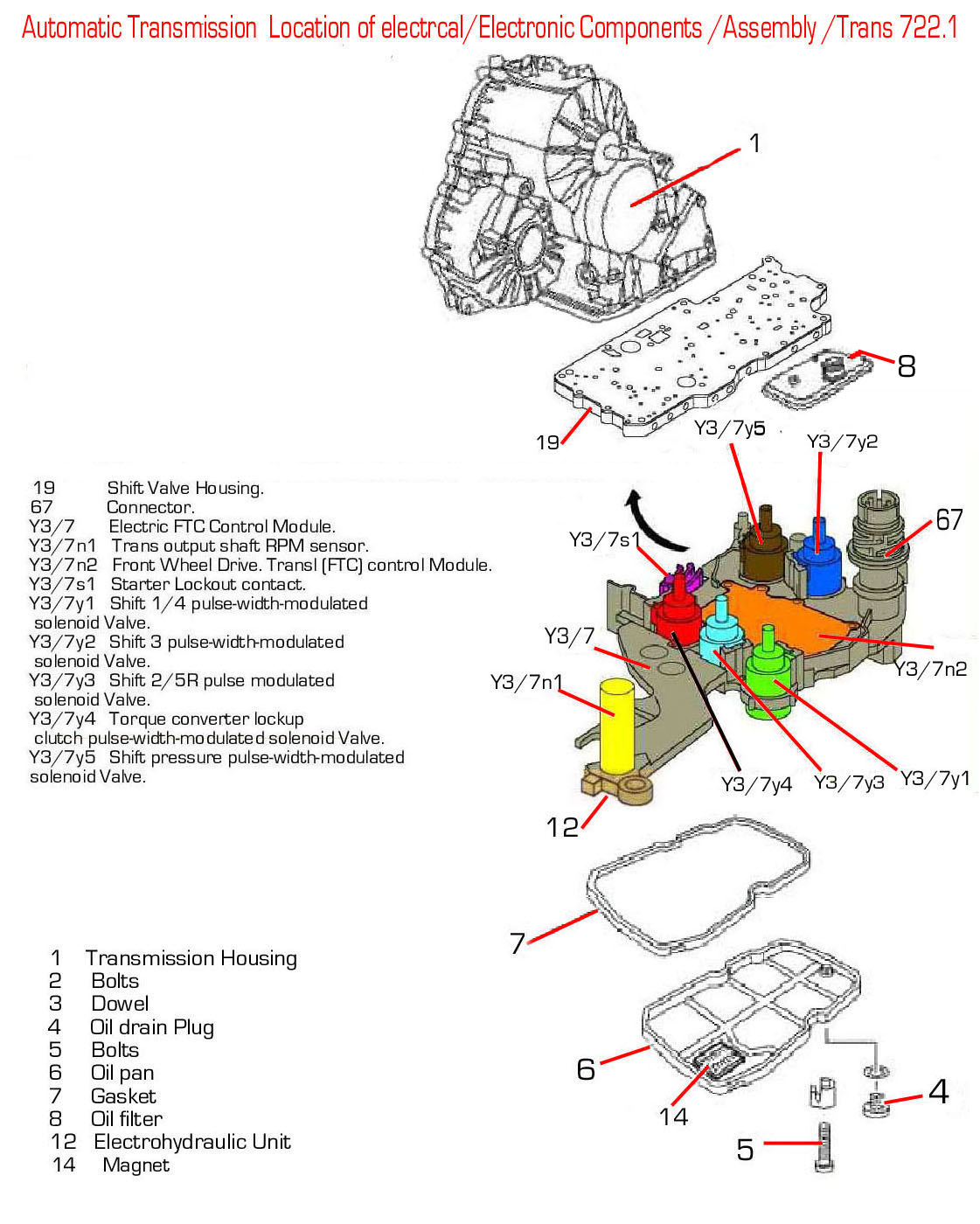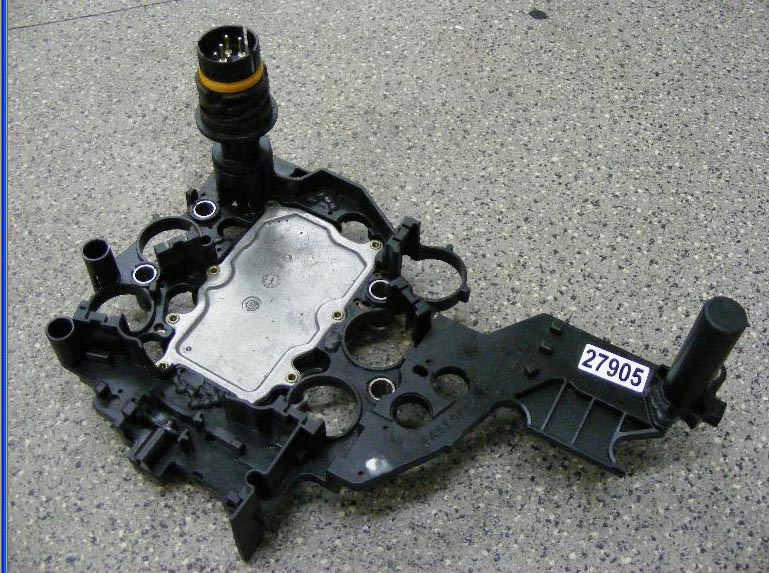 Repairs to the ECU of the Fully automatic transmission.(Gearbox)
This repair can now be undertaken by ECU Testing
Be warned there are other companies claiming
they can repair these units one such Company is in Milan.
As one owner found they can't! They simply returning his FTC/ECU in bits and claiming it was not repairable leaving him now in a situation where a new ECU will cost him 1700€ and Mercedes-Benz refusing to supply unless they fit it.
It is also apparent from what this owner says that only some of the solenoids are available from Mercedes, another good reason for using ECU Testing.com
His findings :-
After studying your web site and with a great help from one friend of mine, we tried to fix the problem; after MB Star diagnostic test trouble codes P 1841 and P1844 appeared so it was quite clear that I had to change transmission solenoid Y3/7Y2 MB part number A 1683771035 and valve solenoid Y3/7Y2 MB part number A 1683770135.
As you may know Mercedes Benz sells only A 1683770135 (€35 including VAT), but unfortunately A 1683771035 is not available as a replacement part, .....I must admit that after clearing the 2 trouble codes, the car went well for only 10 Kames, after that the "F" code popped up again, so I tried to get a 2nd hand A1683771035.....I checked again the transmission ECU with a new A1683770135 valve solenoid together a tested OK 2nd hand A1683771035, and P1841 and P1844 popped up again after a 5-10 Km test. To tell the story short none of my previous valve solenoids were out of order, as Star diagnosis suggested in the first test. Part of this disappointed owners e-mail:-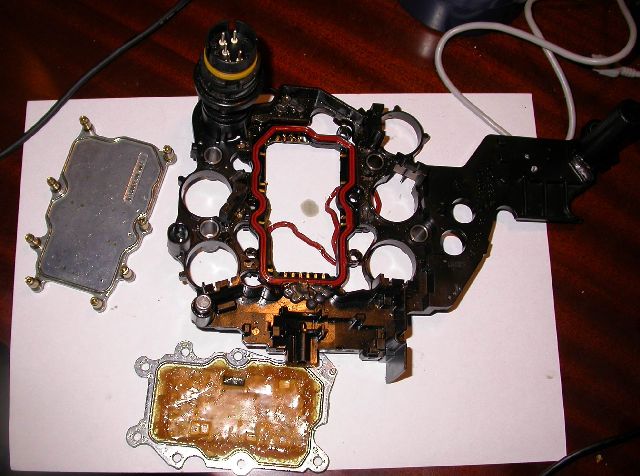 Quote
I called BBA Reman in RHO (Milan, Italy) as they stated they're able to fix a faulty Mercedes transmission ECU for euros 400+vat, with 2 years warranty...and unlimited kms coverage I sent them the ECU for bench testing and they called me at the phone after a couple of days to tell me that the ECU can't be repaired, they were not able to explain why, but they simply told me they were going to send it back to me......I waited for the ECU shipped back and everyone will agree my disappointment when I opened the package and I found my ECU totally dismantled, please see picture. BBA Reman don't have a reply for this, the Technician said : "it just happens when you try to repair it ......"
Unquote
So be warned
this is not a DIY repair it requires the attention of a skilled technician who is fully aware of what he/she is doing.
If having to send your valve chest to the UK is inconvenient, it may well be an inconvenience that will pay dividends in the long run saving you a great deal of money and Heartache.
Having said that I cannot say what the percentage of unit's ECU Testing receive that turn out to be none repairable. I will endeavour to find out. Common fault codes for a failed transmission ECU:-
P1843 - Valve Y3/7y4 - Pulse width Modulated Solenoid Valve. Torque Converter Lock up clutch
P1842 - Valve Y3/7y3 - Pulse Width Modulated Solenoid valve 2/5/R shift
P1840 - Valve Y3/7y1 - Pulse width modulated solenoid valve 1/4 shift
P1884 - Valve Y3/7y5 - Pulse width modulated solenoid valve. Shift pressure
P1841 - Valve Y3/7y2 - Pulse width modulated solenoid valve. 3 shift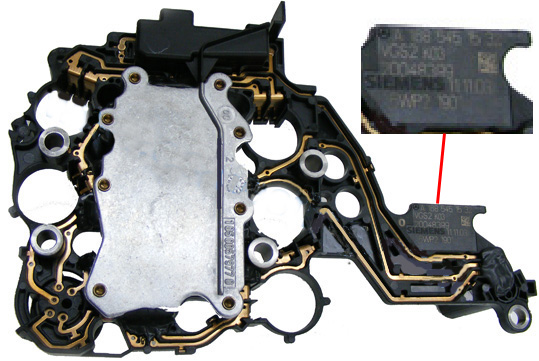 But please study the information provided on their page for part numbers etc.
ECU Testing have kindly agreed a 10% discount off the total cost off £228.00 (08/02/2011) for my readers.
If contacting the company you must mention 'Lofty's Homepage' and when completing the test page downloadable from the above link, enter 'Lofty's Homepage' in the Company Name, box, this will secure you the 10% discount.
Fault codes and information along with photographs kindly provided by
ECU Testing.com
Note the location of the component information details
The photographs on the right show you the FTC/ECU that will be serviced are part of the overhaul/repair of your unit . Please see the note about sending the complete chest when sending for repair.
This is to try and prevent a similar situation to that experienced by one owner where the unit was damaged beyond repair by the garage who obviously did not know what they were doing, damaging the unit in the process.
Special Note
Where the fault codes point to the NTC.ECU (Front Transmission Control/Electronic Control Module) of the auto transmission you are advised to return the complete valve chest, as shown above to ECU testing.
This enables them to check and replace the solenoid valves if defective as well as remove and test the FTC/ECU repairing as required.
If you intend having the unit repaired then under no circumstances tamper with this very complex component.
Removing any parts is likely to allow springs and none return ball valves to be released which are impossible to replace correctly unless you are very familiar with this unit. Damage may even be caused by removing the solenoids in uncontrolled conditions.
Damaged or missing components also make it none repairable, but a handling charge may still be made.
The valve chest in this photograph was scrap as the garage that had removed it had attempted repair, loosing component parts as well as having damaged it beyond repair by ECU testing or any other company the damage included.
, The seal had been ripped apart for the P1884 Valve Y3/7y2 – Pulse width modulated solenoid valve shift pressure, and several ball bearings and springs had been lost for the pressure valves.
The only alternative left for the owner, a replacement Valve Chest complete with transmission ECU at great cost and in many instances a greater cost than the value of the car.
When sending your units for test/repair
please ensure they are suitably packed, bubble wrap and a polythene bag
will protect your unit against damage and contamination. ECU testing will ensure the items are suitably packed for their return journey.
Please remember this is a complex and very expensive part of your car, if you do not feel confident enough to remove it, have it removed and re-installed by a garage workshop, preferably one where you have had work done before and know you can trust them to do a good job. MB main dealers will almost certainly want to fit a New valve chest or FTC.ECU which is not necessary as these are very expensive items, both are normally serviceable once removed. Lofty
Again I would like to thanks all those owners of automatics who have made contributions to this page large and small, It has not been possible to name every body, never the less your contribution will assist other owners with the 'A' Class owners with this section of the overall site getting upwards of 2500 visitors a day
Thank you.
Gerd of Germany has kindly provided the PDF for the Automatic transmission, even if you cannot read German the diagrams may be of interest to you.
However should you wish to translate any given section, copy and paste in
Google translate
on the WWW:-
Example for 722.7 Teil4.pdf First page :-
84 opto-electronic switch gear recognition
85 opto-electronic switch circuit Tip
86 opto-electronic switch program selector
A61 crossing detection module

Auto trans info 1.

Auto trans info 2.

Auto trans info 3.

Auto trans info 4.
This e-mail (Information) below was received from Bruce who has had problems with his automatic transmission.
With so many cases where either the selector PCB or the valve chest forming the bottom of the transmission (Gearbox) is responsible for the fault it is easy to suggest that one or both may be the cause of the problem.
However in Bruce's case the problem was totally different , the cause of his failure to obtain certain gears being caused by a fractured weld, there is no way that diagnostics will pick up a mechanical failure such as this , only a strip of the transmission which necessitates the removal of the engine and gearbox and then stripping the gearbox did this failure come to light.
Not a failure I have heard of before and sincerely hope I do not hear of again. But one perhaps we should bear in mind if all else fails to resolve the fault of missing gears . Thank you Bruce for the information and Photos.
Lofty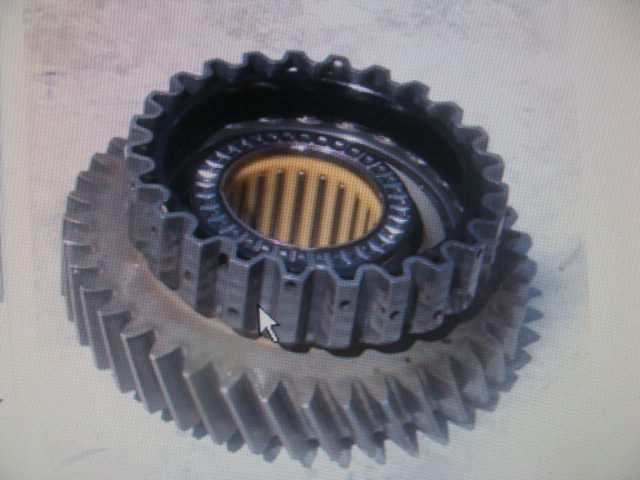 Dear Clive, Lofty, Jason, Ecu testing.com.
As is often the case I've been barking up the wrong tree - or I had two problems one pre-existing that masked the other but hey "that's life"
Of the two ECUs the one below the gear shift had had an issue in the past so that was one problem and ECU testing fixed it, it just wasn't the fatal problem.
The problem when we left you however was not the ECU, either of them, it was much more fundamental; the first picture shows the fourth gear (clutch?) gear component as it should be...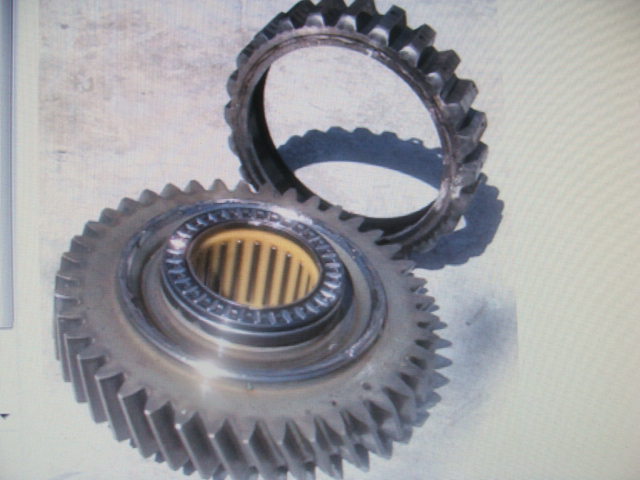 This picture is what 'Stephens Engineering Automatics Ltd' found literally floating in the gearbox:
Or The 'welding' of the two parts had failed so when in fourth there could be no drive at all! Detecting no drive caused the management system to put the car in 'get home' mode - 2nd gear, not good with 200 miles to go! Thank heavens for a quality 'get you home' policy eh?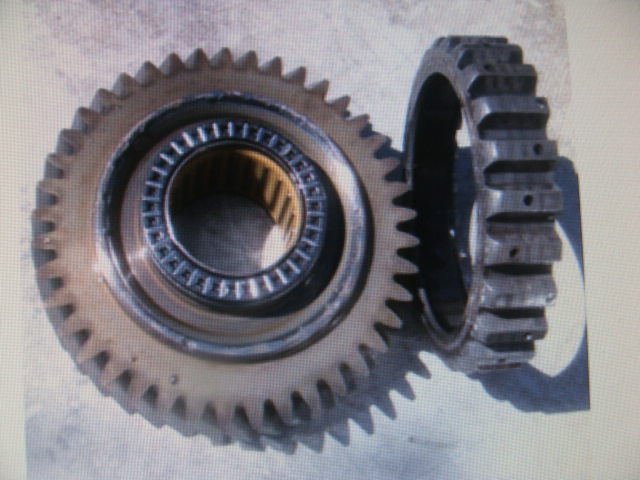 So all that flushing, filter changing etc was a waste of time, BUT now I have a good fault code reader and so much more knowledge - as well as an inordinate amount of ATF used once for flushing now destined for the tidy tip.
Still it's only money and I can laugh about it.
By the way Sally took the car to the Lake District the day after we got it from Stephens - silly or what?
Thanks to all who have helped on the way: Lofty, ECU Testing.com (whose guarantee does means lifetime), David Groom, Jason of Stephens Eng and not least S, my wife, for scrapping me off the ceiling and agreeing to fund the job! Oh you too, just to listen to me and tell me to invest in another filter! Would I do it again? In a heartbeat! Regards Bruce
Just one more e-mail that points to the poor workmanship in the soldering area on the PCB selector module. Do bear in mind that ECU testing .com will do a professional job in the repair of this module and will put a life time guarantee on their work.
Dear Lofty,
Don't need any advice yet - but keen to supply info re: the dreaded "F" gearbox fault on the W168 Auto transmission.
Our 2001 A160 engine completely failed a year ago - engine sludge build up - and we had an A190 engine successfully transplanted from the wrecking yards by a very talented mechanic who just would not give up. (But that's another story).....
After all the expense of the engine swap (and an expensive gearbox valve body replacement two years earlier) we started getting the dreaded "F" displayed and accompanied by the usual limp-home performance. A quick on/off with the engine and all resumed normally for a while. But this occurrence eventually became too frequent.
I bought a cheap OBD scanner and kept getting code P0600 - serial cable. It turned out to be the circuit board with several dry joints - particularly around the area where the cable connected to the board. That connection seemed like it had NEVER been soldered and was moving freely with no sign of previous soldering...
Re-soldering this board at this and a couple of other points completely cured the problem and stopped the codes.
Also what I thought had been a (normal) particularly rough downshift - during slowing/stopping - when the car drops from second to first gear (prior to fully stopping) completely vanished. This characteristic had always been with the car since we first had it (nearly eight years ago) and I was always told by an independent Benz mechanic "That's the way the w168 car is". So the fault must have been in the vehicle since new....
It now drives like it never has before. I'm quite thrilled by the improvement, but now have a serious distrust of Mercedes after previously thinking the brand mostly immune from poor production processes.
We also own a W210 - but it has been largely trouble free.
kind regards
Bruce Brisbane, Australia.
This infornmation was provided by John unfortunatly there are no photos of the parts mentioned.
When John who is a qualified Mechanic and electrical technician had mechanical problems with his automatic transmission he repaired it himself and has forwarded this information to assist other owners who have
Mechanical rather than electrical/FTC/ECU Problems
.
Symptoms of mechanical defect.
The car set off fine in first gear. As soon as it reached the 1-2 change there was no second gear at all, the car revved and then the ECU/computer put the vehicle into safe mode 'F' being on the instrument cluster display.
Only one forward gear was available.
It was revealed later that the 2nd gear (K2?) had separated from clutch centre.
In my opinion caused by a faulty friction weld during manufacture.
Nothing else was replaced in the gearbox.
All clutch plates were as new, transmission fluid was clean although I did use new fluid when I reassembled.
Action.
I bought another scrap gearbox off e-bay costing £35 that had no forward drive so would not set off at all. This suggested K1 and probably failed and that K2 was OK so I took the risk and purchased the unit.
Upon receiving it the gearbox had no mechanical problems, just the friction clutch plates burnt out so I robbed the gear 2nd gear I needed.
The effected vehicle was a 2005 Vanio 1.6 with only 44k miles, which has the same power train as the W168 1.6 'A' Class
Action taken
1.W168 engine with auto transmission was removed .
Procedure followed:
-
2. Remove gearbox making sure that the torque converter stays with the gearbox. You will need to use a screwdriver or lever between the engine and the gearbox to ensure that happens.
3. Remove the gearbox to a safe position on a workbench or work area
---
Stripping the gearbox
4. With gearbox on bench and the left hand side flat on the bench, bell housing pointing upwards
5. Remove all of the Torx fixings that you can see
6. Remove one Torx fixing that is now horizontal into the bottom of the gearbox.
This actually goes through a shaft inside the gearbox and holds the box toge. Carefully lift the top casing off exposing all the gears. Watch for shims and bearings sticking to the top case and put them back on their respective shafts.
7. Remove reverse gear with parking pawl and remove parking pawl assembly
8. All three shafts have to be lifted together to get them out of the box as the gears will not clear each other for any one to be removed first.
9. All items are replaced in reverse order.
---
Observations
This gearbox is a little beauty. Very simple functionally and very strong. They only fail because of the way in which Mercedes-Benz have decided to increase revs when the engine is cold, taking the revs to higher than the stall speed of the converter in order for the catalytic converter to start working more quickly.
This means that if you select 'D' Drive before the engine revs drop (as can be seen on the rev.counter)( about two minutes after starting) you stand the chance of damaging the gearbox.
The solution is to run the engine for a couple on minutes from cold before you need to set off on you journey.
This will ensure that the engine revolutions have settled back to about 700-800 and that the fluid in the automatic box is increasing in temperature.
I was not in a hurry to complete this job and took my time, It took me two days to remove, two days to put back, the repair the transmission only took about 90 minutes gearbox. if you have all facilities available as well as the spare pair of eyes and hands required for some tasks I feel sure in could be completed in a day.
The cost of the repair was new transmission fluid, and the second hand transmission from which I removed the parts needed
The repair was successful and I am pleased with the outcome.
John Dickinson
Lofty's comment
Do bear in mind that this is a big job for which you want tools along with workspace to work, as well reliable jack and lifting devise.
Unless you have a good basic understanding of vehicle mechanics as well as prepared to implement all safety procedures it is a job best left to the professionals, However with a early model 'A' Class the cost of repair may be greater than the value of the vehicle if the work is undertaken by a garage.
It is worth noting that Mercedes-Benz is unlikely to undertake any mechanical repairs to any transmission, they will almost certainly quote for a factory rebuilt transmission be it Manual or automatic, so ensure you get a firm quote in writing before leaving you vehicle for repair. In the case of a manul transmission they will also want to fit a new clutch assembly the price for which would not be included with the replacement transmission.
Please read the pages below before considering undertaking this task:-
Working around and under your car.
Fully Automatic transmission/Gearbox information.
Replacing K1 Automatic Transmission clutch.
Removing /Replacing poly V belt.
Next.
Back to Index,
Purchase DVD.
Please Make a Donation.